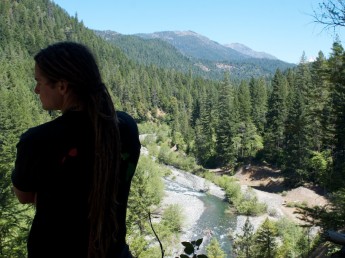 These proposed Wild and Scenic Rivers flow from the magnificent Trinity Alps Wilderness, providing important habitat for salmon and steelhead migrating to and from the Trinity River, as well as outstanding outdoor recreation opportunities and scenery.
Beautiful alpine lakes high in the Trinity Alps Wilderness are the source of Canyon Creek. From there, this remarkable stream flows south through scenic alpine meadows, over numerous waterfalls, through a rugged forested canyon, and past former Native American village sites and historic Gold Rush mining towns to its confluence with the Trinity River at Junction City.
Heavily degraded by past mining, Canyon Creek today runs clear and cold, supporting a healthy fishery of salmon, steelhead, and resident trout. But in recent years, Canyon Creek has been threatened by the proposed resumption of industrial mining.
A National Forest road parallels the lower half of the creek, providing access from Highway 299 to the Ripstein Campground and the Canyon Creek Trailhead – the gateway to one of the most scenic and popular hiking trails in the Trinity Alps Wilderness.
The Forest Service has recommended Canyon Creek for Wild & Scenic River protection.
---
Management Agency: U.S. Forest Service ~ Shasta-Trinity National Forests
Location: Trinity County, CA 2nd Congressional District
Watershed: Trinity River
Proposed Wild & Scenic River Miles: 17.8 miles
Outstanding Values: Anadromous fisheries, ecological, wildlife, recreation, scenery