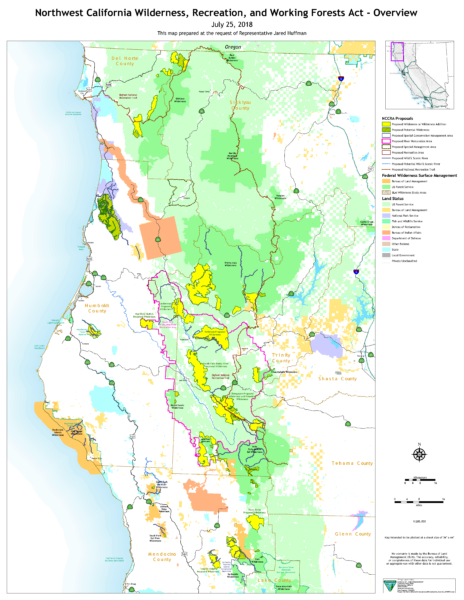 Northwest California is one of the most beautiful and special places on earth. From the fog-shrouded redwood forests of Humboldt County to the sunny oak woodlands and grasslands of Mendocino, and from the soaring peaks of the Trinity Alps Wilderness to the turquoise waters of the Wild & Scenic Smith River, this region is home to spectacular landscapes.
Visitors from around the globe come to Northwest California to fish mountain streams, run river rapids, hike backcountry trails and find solitude in primeval redwood groves – all of which drives consumer spending in local communities and enhances the region's outdoor recreation economy. These mountains and rivers are also among the most biologically diverse areas on the planet, home to thousands of different plants and animals.
Congressman Huffman and Senator Harris' Northwest California Wilderness, Recreation, and Working Forests Act would safeguard and restore important public lands, rivers and streams in Mendocino, Humboldt, Trinity and Del Norte counties. This legislation would protect our wild lands and rivers and expand recreational opportunities while restoring watersheds and managing for fire.
The Goal
Our goal is to work with Congressman Huffman and Senator Harris to:
Restore and Revitalize Forests and Watersheds
Permanently Conserve Ecologically-Significant Areas
Expand Recreation Opportunities and
Enhance Local Economies
Learn more