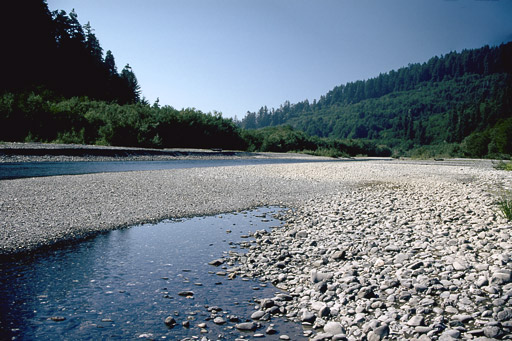 Redwood Creek flows north through Redwood National Park, past the small community of Orick, and into the Pacific Ocean. Approximately 20 miles of Redwood Creek are located in Redwood National Park.
The Nationwide Rivers Inventory identified numerous outstanding values for Redwood Creek. The creek flows through old growth and second growth redwood forests, including the Tall Tree Groves, the location of the tallest tree on earth.
The creek supports a diverse anadromous fishery, including endangered Coho and Chinook salmon, steelhead, and coastal cutthroat trout. Ospreys nest along the creek, elk wander its banks, and river otter play in the creek's riffle and pools.
One of the most popular trails in the Park, the Redwood Creek Trail parallels much of the creek and leads to the Tall Trees Grove. The Redwood Creek Trailhead picnic area and the Elam and 44 Camp backcountry camps offer respite for hikers and backpackers. The Redwood National Park Information Center is located near the mouth of Redwood Creek and the Pacific Ocean.