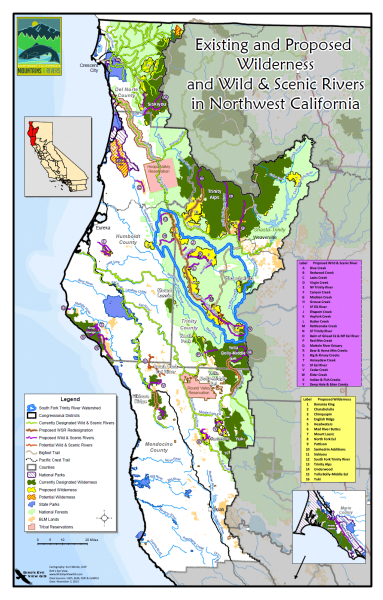 The mountains of Northwest California are home to rich forests, beautiful rivers and streams, and world class recreation opportunities. The most pristine parts of this amazing landscape are worth protecting and areas that have been damaged by fire, neglect and other disturbances need to be restored.
Northwest California's Mountains & Rivers is working with local conservation organizations, business owners, land owners, biologists, Native American tribes, hunters, anglers and other community members to develop a proposal that protects and restores many remaining wild public lands and rivers in Mendocino, Humboldt, Trinity and Del Norte Counties.
The Goal
Our aim is to develop an innovative citizens' proposal that benefits our landscapes, watersheds and communities.   We will ask Congressman Jared Huffman to champion this plan with legislation in Congress.
This proposal could include support for:
Protecting key healthy forests and streams that sustain our wild fish populations
Restoring damaged forests and watersheds
Supporting community wildfire protection and ecologically responsible fire management strategies
Improving water quality and quantity throughout the region
Promoting our local recreation economy
Learn more
Get Involved